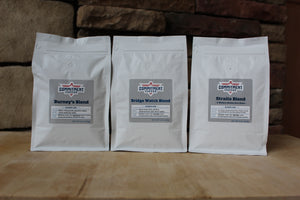 This variety pack is for the coffee lover who appreciates the underlying and subtle complexities of blended coffee!  This variety pack contains three, 8 oz. bags and includes the following varieties:
Burney's Blend:  balanced, smooth taste with medium body.  Our flagship variety!
Bridge Watch Blend:  dark and oily, with a distinctive and bold taste.  
Straits Blend:  unique blend of fruity, floral notes contrast an earthy, spicy finish. 
Burney's Blend and Straits Blend are a Medium Roast and the Bridge Watch Blend is an Italian Roast (our darkest roast level).  All varieties contain 100% arabica beans.