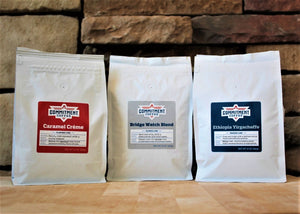 A perfect introduction to our newest small-batch, craft coffee varieties.  This starter pack includes the following three 8 oz. packages - one each from our Blends, Flavors & Origins product lines:

Caramel Créme: sweet, rich caramel with a nutty nuance.
Bridge Watch Blend:  dark and oily, with a distinctive and bold taste.  
Ethiopia Yirgacheffe:  clean and bright with a distinct citrus flavor.
A great way to try a smaller package of our newest items...this Starter Pack also makes a great gift!